Sunday Editorial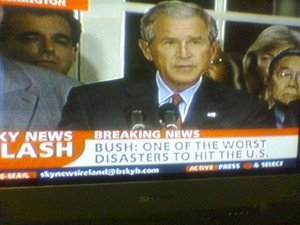 Disaster
I wanted to post this up the page again with some addendum at the end.

I Feel Sooooo Protected!
One of the favorite memes of wingnuttery is that we haven't been attacked since 9/11 and that shows how well the pResident is protecting us.
Well gee, many other countries have been attacked, arguably because of our escalation of hostilities. It's not like kill'em all has been a great success.
Frankly the reason we have not been attacked since 9/11 is that our leaders are doing a good job of destroying everything themselves.
Who needs another attack when we are spending ourselves into bankruptcy to fight what amounts to a small fraction of the human population. Who are, buy the way, spending comparatively miniscule amounts in this fight.
Who needs another attack when our own government fills us with terror and fear of a juggernaut of an enemy who will destroy us all if we don't bend to our dear leaders will.
Who needs another attack when large swaths of world population is turned against us...by our own actions.
Who needs another attack when our own dear leaders are willing to shred our constitutional balance of powers and defeat the will of the people. The true strength of our country.
Who needs another attack when the issue it's self can cause our country to divide to the point of a perception of Americans and Non-Americans.
Seems to me that the terrorists got the ball rolling and lateraled to King Georges realm. They've picked it up and run with it quite well. Touchdown George!
From Donkeys' comments:
Bush declared he will not be bound by international treaties and conventions.This Constitution, and the Laws of the United States which shall be made in Pursuance thereof; and all Treaties made, or which shall be made, under the Authority of the United States, shall be the supreme Law of the Land. Bush said that when it comes to countering terrorism, "Anything we do to that effort, to that end, in this effort, any activity we conduct, is within the law." Will,we the people, allow Bush to emerge as an absolute ruler who can do whatever he wants , with no checks, balances or oversight from any other branch or agency of government? Is this how the Republic will die? With people to stupid to care?
Now we also have
"signing statements
". Translation? Permission to lie.